John Spencer's Personal Page
As you may gather, most of this page has not been updated for a while...
Audio Recordings
In MP3 format: if your browser does not play these directly, use "Download Linked File As..." or the equivalent option.
---
Family
---
Our sabbatical in England, during the first half of 1998.

Native of Colne, Lancashire, England.
---
Favourite Poetry
Scenic pictures of Comet Hale-Bopp.
Interesting plants in the mamane forest near Hale Pohaku, Mauna Kea, Hawai`i.
---
Recreational digital imaging.
Miscellaneous images
Click on the thumbnails for the full-sized image.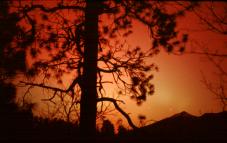 Aurorae behind the San Francisco Peaks, from our house. The only time I saw the aurorae from Flagstaff, and the best of the few displays I've ever seen, though it didn't look quite this bright to the naked eye. Ironically, the picture was taken on film I bought for planned auroral photography during a trip to Alaska in November 2000, but I never used it for that purpose. The aurorae came to me instead. Ektachrome 200 pushed to ISO 400, about 20 seconds at f 1.8. About 12:30 am, March 31 2001 (one of the last slides I ever took, before going entirely digital). Thanks to Nat White for waking us up to see this.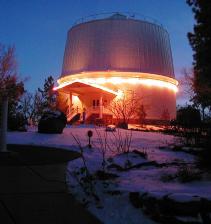 Lowell 24" in the snow, December 16 2000.



1983 agave time-lapse project.


The Santa Catalina Mountains at sunset, from the roof of LPL, U. Arizona, Tucson, taken in 1985 (I think).
Here is a smaller version (2200 x 230 pixels, 170 K).

Asteroid 7554 Johnspencer, discovered by Ted Bowell in 1981, named in July 1999 (thanks, Ted!), photographed by Erica Ellingson August 7 1999 on the Lowell 72". It's the elongated streak in the lower center.
---
Return to Spencer Home Page