Some things I like to do for fun:
I love flying!
Do you have deep, dark thoughts? ...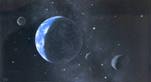 When I feel like exercising the right side of my brain I like to paint space art. Click here to see some of my paintings.
My two favorite ways of getting around.
Yes, it does snow in Tucson!
And flowers do bloom in the desert!