The LAMP instrument, one of six selected by NASA to be carried aboard LRO, was developed and built by a team of scientists and engineers from the Southwest Research Institute (SwRI), headquartered in San Antonio, Texas. SwRI is an independent non-profit applied research and development organization focused on engineering and the physical sciences. The Denver Museum of Nature & Science is the educational partner for LAMP. Museum staff developed this Web site and created a video and exhibits showcasing the LAMP instrument and its role in the larger LRO mission.
Here is a photo from 2008 showing the LAMP team.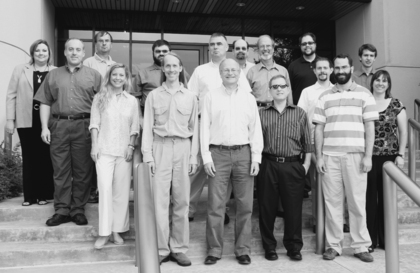 Below is an alphabetical table of the members of the LAMP team, their organizations and their roles on the project.
Name and Institution
Title
Polly Andrews, DMNS
Education/Public Outreach
Ron Black, SwRI
Project Manager (Phase A-D)
Traci Case, SwRI
Project Support (Scheduling/Cost)
Mike Davis, SwRI
Optics, Detector & Calibration
Armando De Los Santos, SwRI
Power Systems
Greg Dirks, SwRI
Mechanical/Thermal Systems
Anthony Egan, SwRI
Data Pipeline and SOC specialist
Vera Elizondo, SwRI
Project Support (Contracts)
Paul Feldman, Johns Hopkins University
Co-Investigator
Randy Gladstone, SwRI
Co-Investigator
(Former Acting Principal Investigator ESMD Phase)
David Glenar, UMBC
Collaborator
Tommy Greathouse, SwRI
Project Scientist
Brian Gupta, SwRI
Project Support (Quality Assurance)
Amanda Hendrix, JPL
Participating Scientist
Mark Bullock, SwRI
LAMP Researcher
Kathy Mandt, SwRI
LAMP Researcher
David Horvath, SwRI
Grad Student Scientist
Dana Hurley, JHU APL
Co-Investigator
David Kaufmann, SwRI
Science Operations Manager
Larry McCullough, SwRI
Project Support (PA)
Paul Miles, SwRI
Grad Student Scientist
Joey Mukherjee, SwRI
Science Operations
Joel Parker, SwRI
Project Manager (Phase E)
Kristian Persson, SwRI
Electrical Systems
Joe Peterson, SwRI
Science Operations
Wayne Pryor, Central Arizona College
Co-Investigator
Kurt Retherford, SwRI
Principal Investigator ESM phase (current)
Paul Rojas, SwRI
Undergraduate Student Scientist
Paige Bailey, SwRI
Undergraduate Student Scientist
Maggie Nagengast, SwRI
Undergraduate Student Scientist
Michelle Kassel, SwRI
Undergraduate Student Scientist
Clarissa Seifert, SwRI
Graduate Student Scientist
Caleb Seifert, SwRI
Undergraduate Student Scientist
Preston Karnes, SwRI
Undergraduate Student Scientist
Dave Slater, SwRI
Optics, Detector & Calibration
Jessica Stack, SwRI
Project Support (Parts Engineering)
Andrew Steffl, SwRI
Calibration Pipeline
Alan Stern, SwRI
Former Principal Investigator (ESMD & SMD Phases)
Tim Stubbs, GSFC
Participating Scientist
Jason Cook, SwRI
Post Doc Scientist
Con Tsang, SwRI
Post Doc Scientist
Cesare Grava, SwRI
Post Doc Scientist
Gianna Sullivan, DMNS
Education/Public Outreach
Henry Sykes, SwRI
Power Systems
Dirk Terrell, SwRI
Computer/Web Server Manager
Maarten Versteeg, SwRI
Software Lead