The Great Comet Crash, with Jacqueline Mitton, available from Cambridge University Press. See the The Fall 1995 Lunar and Planetary Information Bulletin for a review by Paul Schenk.
Sample illustrations:

3-color (1.58, 1.7, 2.3 micron) image of impact sites E and D, from CTIO (composite by Nick Schneider), and...

The G impact, had it hit Earth, and...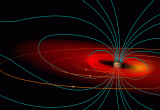 The Jovian magnetosphere