SWUIS-A Cockpit Configuration
---
These are images of the SWUIS-A equipment in use in the cockpits of a WB-57 Canberra and an F-18 Hornet.
---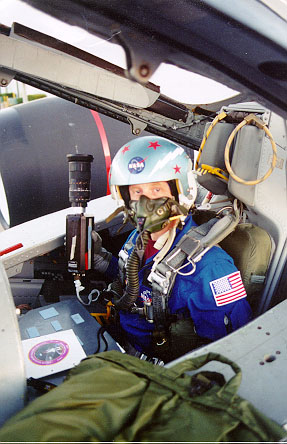 SWUIS Principal Investigator Alan Stern in the WB-57 holding the SWUIS-A camera with attached 60-300 mm foreoptic. Our 85 mm foreoptic is slightly wider, but half the length of the one shown here.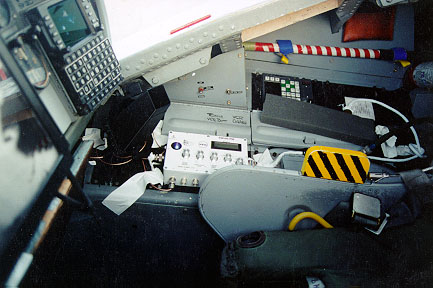 The SWUIS Power Interface Box (PIB) mounted in the WB-57. Here the PIB was mounted on the left side of the cockpit. Just to the left of the PIB is a small LCD monitor which we use to display the image being output to the VTR, here with a black plastic glare shieled installed over it.
The SWUIS-A camera being flight tested in the F-18B (NASA 852). The camera is mounted above the rear cockpit instrument panel on a Bogen bracket, allowing alt/az pointing capability with image stability.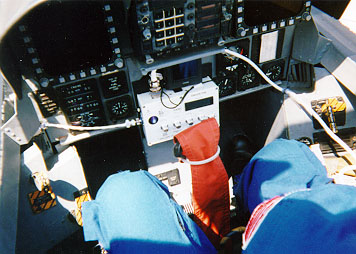 The SWUIS-A PIB mounted on the instrument panel in the F-18B (NASA 852). The PIB is the white box, foward of the stick, between Alan's knees. Mounted on top of the PIB, just to the right of the white cable coming out of the top of the box, is the LCD monitor.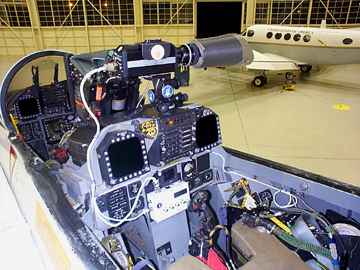 The SWUIS-A system integrated into the F-18B (NASA 846). The PIB and LCD monitor are visible just in front of the stick. White cables running from the PIB to the right side of the cockpit connect to the aircraft power supply and VTR. The Xybion ICCD camera is mounted above the instrument panel glare shield. On this flight (10-11 Dec 1999, the 245 Vera occultation) the 85 mm f/1.4 foreoptic was mounted on the camera, here with a foam light baffle attached. Click here to see a larger version of this image.
Click here to see an interconnect diagram for the SWUIS-A system.