RECON: TNO occultation with 382004
Event between (382004) 10RM64 and star UC4-554-033237
Geocentric closest approach at 2015/04/19 04:38:37 UTC
J2000 position of star is 06:53:58.8 +20:42:57
Equinox of date position of star is 06:54:53.8 +20:41:44
Stellar brightness R=14.5
Star is 68 degrees from the moon. Moon is 0% illuminated.
TNO apparent brightness V=20.8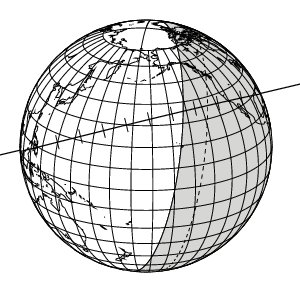 [RECON map]
TNO is 8.0 AU from the Sun and 8.2 AU from the Earth.
The TNO is moving 20.2 km/sec on the sky relative to the star, or, 12.2 arcsec/hr.
The 1-sigma error in the time of the event is 21 seconds.
The 1-sigma cross-track error in the shadow position is 327 km.
The TNO has an absolute magnitude Hv=11.2
Diameter=36.3 km assuming a 5% albedo
Diameter=14.8 km assuming a 30% albedo
Dynamical classification is CENTAURR







Star training set for 382004, (2015/04/19 04:39UT)
Object            RA         Dec     mag  sep  mel
Pollux         07:46:15.0 +27:59:17  1.1 13.77  79
Alhena         06:38:35.7 +16:23:06  1.9  5.79  65
36 Gem         06:52:28.0 +21:44:30  5.3  1.19  68
PPM 096714     06:55:16.1 +21:08:26  7.8  0.45  68
PPM 096693     06:54:36.9 +20:51:15  8.9  0.17  68
382004         06:54:53.3 +20:41:45 14.5        68
Positions are for equinox of date

Target star visibility for the RECON network
Site
Site mid-time
(UT)
Sun alt
(deg)
Sky
Moon
Star alt
(deg)
Target
Observing Time
(UT)
Oroville
04:36:16
-15.6
AT
Down
39.5
Up
04:34:03 - 04:38:30
Tonasket
04:36:14
-15.7
AT
Down
39.5
Up
04:34:01 - 04:38:28
Okanogan
04:36:14
-15.8
AT
Down
39.7
Up
04:34:00 - 04:38:27
Brewster
04:36:13
-15.9
AT
Down
39.9
Up
04:33:59 - 04:38:26
Manson/Chelan
04:36:12
-15.8
AT
Down
40.2
Up
04:33:58 - 04:38:25
Entiat
04:36:11
-15.9
AT
Down
40.3
Up
04:33:57 - 04:38:24
Wenatchee
04:36:10
-16.0
AT
Down
40.4
Up
04:33:57 - 04:38:24
Ellensburg
04:36:08
-16.1
AT
Down
40.7
Up
04:33:55 - 04:38:22
Yakima
04:36:06
-16.4
AT
Down
40.8
Up
04:33:52 - 04:38:19
Toppenish/White Swan
04:36:05
-16.6
AT
Down
40.7
Up
04:33:51 - 04:38:18
Pasco
04:36:03
-17.4
AT
Down
39.9
Up
04:33:50 - 04:38:17
Pacific NW Region. Obs.
04:36:01
-17.6
AT
Down
39.8
Up
04:33:48 - 04:38:15
Goldendale
04:36:03
-16.7
AT
Down
41.1
Up
04:33:50 - 04:38:17
The Dalles
04:36:02
-16.6
AT
Down
41.5
Up
04:33:49 - 04:38:16
Maupin
04:36:00
-16.9
AT
Down
41.5
Up
04:33:47 - 04:38:14
Madras/Culver
04:35:58
-17.2
AT
Down
41.6
Up
04:33:44 - 04:38:11
Sisters
04:35:57
-17.1
AT
Down
42.0
Up
04:33:43 - 04:38:10
Redmond
04:35:57
-17.4
AT
Down
41.7
Up
04:33:43 - 04:38:10
Bend
04:35:56
-17.4
AT
Down
41.9
Up
04:33:42 - 04:38:09
Oregon Observatory
04:35:55
-17.5
AT
Down
42.0
Up
04:33:42 - 04:38:09
LaPine/Gilchrist
04:35:55
-17.5
AT
Down
42.1
Up
04:33:42 - 04:38:09
North Lake
04:35:52
-18.1
Dark
Down
41.8
Up
04:33:39 - 04:38:06
Paisley
04:35:50
-18.7
Dark
Down
41.6
Up
04:33:36 - 04:38:03
Chiloquin
04:35:51
-18.0
AT
Down
42.6
Up
04:33:37 - 04:38:04
Klamath Falls
04:35:49
-18.2
Dark
Down
42.6
Up
04:33:35 - 04:38:02
Lakeview
04:35:47
-19.1
Dark
Down
41.6
Up
04:33:34 - 04:38:01
Tulelake
04:35:47
-18.5
Dark
Down
42.4
Up
04:33:34 - 04:38:01
Cedarville
04:35:44
-19.6
Dark
Down
41.6
Up
04:33:30 - 04:37:57
Fall River/Burney
04:35:44
-19.1
Dark
Down
42.5
Up
04:33:30 - 04:37:57
Susanville
04:35:39
-19.9
Dark
Down
42.1
Up
04:33:26 - 04:37:53
Greenville
04:35:39
-19.9
Dark
Down
42.4
Up
04:33:26 - 04:37:53
Quincy
04:35:38
-20.0
Dark
Down
42.4
Up
04:33:25 - 04:37:52
Portola
04:35:37
-20.4
Dark
Down
42.0
Up
04:33:23 - 04:37:50
Reno
04:35:35
-20.9
Dark
Down
41.6
Up
04:33:21 - 04:37:48
Carson City
04:35:33
-21.1
Dark
Down
41.6
Up
04:33:20 - 04:37:47
Yerington
04:35:31
-21.6
Dark
Down
41.2
Up
04:33:18 - 04:37:45
Gardnerville
04:35:32
-21.3
Dark
Down
41.6
Up
04:33:19 - 04:37:46
Hawthorne
04:35:29
-22.2
Dark
Down
40.8
Up
04:33:15 - 04:37:42
Lee Vining
04:35:27
-22.3
Dark
Down
41.2
Up
04:33:13 - 04:37:40
Tonopah
04:35:25
-23.4
Dark
Down
39.7
Up
04:33:12 - 04:37:39
Bishop
04:35:23
-23.1
Dark
Down
40.7
Up
04:33:10 - 04:37:37
Lone Pine
04:35:20
-23.7
Dark
Down
40.5
Up
04:33:06 - 04:37:33
Beatty
04:35:20
-24.4
Dark
Down
39.5
Up
04:33:06 - 04:37:33
Indian Springs
04:35:18
-25.3
Dark
Down
38.6
Up
04:33:05 - 04:37:32
Henderson
04:35:15
-26.0
Dark
Down
38.1
Up
04:33:01 - 04:37:28
Searchlight/Boulder City
04:35:12
-26.4
Dark
Down
38.0
Up
04:32:59 - 04:37:26
San Luis Obispo
04:35:18
-22.7
Dark
Down
42.7
Up
04:33:05 - 04:37:32
Kingman/Dolan Springs
04:35:11
-27.1
Dark
Down
37.3
Up
04:32:58 - 04:37:25
Laughlin/Bullhead City
04:35:11
-26.8
Dark
Down
37.8
Up
04:32:58 - 04:37:25
Mohave Valley
04:35:10
-27.0
Dark
Down
37.8
Up
04:32:57 - 04:37:24
Lake Havasu City
04:35:08
-27.4
Dark
Down
37.6
Up
04:32:54 - 04:37:21
Parker
04:35:06
-27.6
Dark
Down
37.5
Up
04:32:52 - 04:37:19
Idyllwild
04:35:08
-26.3
Dark
Down
39.5
Up
04:32:54 - 04:37:21
Blythe
04:35:05
-27.7
Dark
Down
37.8
Up
04:32:51 - 04:37:18
Calipatria
04:35:04
-27.4
Dark
Down
38.5
Up
04:32:51 - 04:37:18
Yuma
04:35:01
-28.3
Dark
Down
37.8
Up
04:32:48 - 04:37:15
Event circumstances last updated at 2015/06/09 20:37:15 UT

Marc W. Buie, Southwest Research Institute