RECON: TNO occultation with 13WV107
Event between 13WV107 and star UC4-591-021444 with event index number of 58580
Geocentric closest approach at 2015/12/01 08:02:12 UTC
J2000 position of star is 05:44:24.1 +28:00:59
Equinox of date position of star is 05:45:24.2 +28:01:20
Stellar brightness R=15.6
Star is 51 degrees from the moon. Moon is 69% illuminated.
TNO apparent brightness V=20.8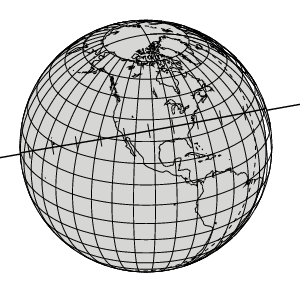 [RECON map]
TNO is 11.7 AU from the Sun and 10.7 AU from the Earth.
The TNO is moving 20.3 km/sec on the sky relative to the star, or, 9.4 arcsec/hr.
The 1-sigma error in the time of the event is 104 seconds.
The 1-sigma cross-track error in the shadow position is 963 km.
The TNO has an absolute magnitude Hv=10.1
Diameter=58.3 km assuming a 5% albedo -- 2.9 sec chord
Diameter=23.8 km assuming a 30% albedo -- 1.2 sec chord
Dynamical classification is CENTAURR







Star training set for 13WV107, (2015/12/01 08:02UT)
Object            RA         Dec     mag  sep  mel
Aldebaran      04:36:50.1 +16:32:24  0.8 19.54  67
Alnath         05:27:18.0 +28:37:10  1.6  4.03  55
PPM 094619     05:40:19.1 +29:13:23  5.9  1.64  52
PPM 094771     05:45:21.2 +27:44:14  8.4  0.29  51
PPM 094776     05:45:33.8 +28:08:29  9.8  0.12  51
13WV107        05:45:24.3 +28:01:20 15.6        50
Positions are for equinox of date

This table contains the target star visibility for the RECON network. The observing range has been set to a maximum of 5.0 sigma about the mid-time.
The median site spacing is 24.7 km RECON observability=1.0 and success probability=41.2%
Site
Site mid-time
(UT)
Sun alt
(deg)
Sky
Moon
Star alt
(deg)
Star az
(deg)
Target
Observing Time
(UT)
X-track
(km)
Oroville
08:02:46
-62.6
Dark
Up
66.1
145.7
Up
07:53:36 - 08:11:55
1762
Tonasket
08:02:46
-62.9
Dark
Up
66.3
145.4
Up
07:53:36 - 08:11:55
1739
Okanogan
08:02:47
-63.2
Dark
Up
66.5
144.7
Up
07:53:37 - 08:11:56
1709
Brewster
08:02:48
-63.5
Dark
Up
66.7
143.9
Up
07:53:39 - 08:11:58
1687
Manson/Chelan
08:02:50
-63.7
Dark
Up
66.7
142.9
Up
07:53:41 - 08:12:00
1674
Entiat
08:02:50
-64.0
Dark
Up
66.8
142.4
Up
07:53:41 - 08:12:00
1654
Wenatchee
08:02:51
-64.2
Dark
Up
67.0
141.9
Up
07:53:42 - 08:12:01
1632
Ellensburg
08:02:53
-64.7
Dark
Up
67.2
140.9
Up
07:53:43 - 08:12:02
1596
Yakima
08:02:54
-65.1
Dark
Up
67.5
140.2
Up
07:53:44 - 08:12:03
1556
Toppenish/White Swan
08:02:54
-65.3
Dark
Up
67.8
140.2
Up
07:53:44 - 08:12:03
1531
Pasco
08:02:50
-65.3
Dark
Up
68.4
142.6
Up
07:53:40 - 08:11:59
1491
Pacific NW Region. Obs.
08:02:49
-65.5
Dark
Up
68.7
142.7
Up
07:53:40 - 08:11:59
1461
Umatilla
08:02:51
-65.6
Dark
Up
68.6
141.6
Up
07:53:41 - 08:12:00
1462
Goldendale
08:02:56
-65.8
Dark
Up
68.0
138.5
Up
07:53:46 - 08:12:05
1486
The Dalles
08:02:57
-66.1
Dark
Up
68.0
137.4
Up
07:53:48 - 08:12:07
1472
Maupin
08:02:58
-66.5
Dark
Up
68.4
136.9
Up
07:53:48 - 08:12:07
1428
Madras/Culver
08:02:59
-67.0
Dark
Up
68.8
135.9
Up
07:53:49 - 08:12:08
1375
Sisters
08:03:01
-67.4
Dark
Up
68.8
134.4
Up
07:53:52 - 08:12:11
1352
Redmond
08:03:00
-67.4
Dark
Up
69.0
135.1
Up
07:53:51 - 08:12:10
1340
Bend
08:03:01
-67.6
Dark
Up
69.1
134.4
Up
07:53:51 - 08:12:10
1322
Oregon Observatory
08:03:01
-67.8
Dark
Up
69.1
133.9
Up
07:53:52 - 08:12:11
1308
LaPine/Gilchrist
08:03:02
-68.0
Dark
Up
69.2
133.3
Up
07:53:52 - 08:12:11
1289
North Lake
08:03:01
-68.4
Dark
Up
69.8
133.7
Up
07:53:51 - 08:12:10
1231
Paisley
08:03:01
-68.9
Dark
Up
70.4
133.4
Up
07:53:51 - 08:12:10
1167
Chiloquin
08:03:06
-69.1
Dark
Up
69.8
130.5
Up
07:53:56 - 08:12:15
1186
Klamath Falls
08:03:06
-69.5
Dark
Up
70.1
129.9
Up
07:53:56 - 08:12:15
1150
Lakeview
08:03:01
-69.4
Dark
Up
70.9
132.7
Up
07:53:51 - 08:12:10
1111
Tulelake
08:03:05
-69.7
Dark
Up
70.4
129.9
Up
07:53:56 - 08:12:15
1115
Cedarville
08:03:01
-70.0
Dark
Up
71.4
131.7
Up
07:53:52 - 08:12:11
1040
Fall River/Burney
08:03:07
-70.6
Dark
Up
71.0
128.1
Up
07:53:58 - 08:12:17
1021
Susanville
08:03:05
-71.2
Dark
Up
71.9
128.1
Up
07:53:55 - 08:12:14
938
Greenville
08:03:07
-71.5
Dark
Up
71.8
126.8
Up
07:53:58 - 08:12:17
917
Niwot
08:02:05
-66.0
Dark
Up
77.9
176.3
Up
07:52:55 - 08:11:14
595
Quincy
08:03:07
-71.7
Dark
Up
72.0
126.4
Up
07:53:58 - 08:12:17
896
Portola
08:03:05
-71.8
Dark
Up
72.3
127.0
Up
07:53:56 - 08:12:15
872
Reno
08:03:04
-71.9
Dark
Up
72.9
127.7
Up
07:53:54 - 08:12:13
828
Carson City
08:03:04
-72.3
Dark
Up
73.1
126.8
Up
07:53:55 - 08:12:14
791
Yerington
08:03:02
-72.4
Dark
Up
73.6
127.7
Up
07:53:52 - 08:12:11
755
Gardnerville
08:03:04
-72.5
Dark
Up
73.3
126.3
Up
07:53:55 - 08:12:14
764
Hawthorne
08:03:01
-72.7
Dark
Up
74.2
127.6
Up
07:53:51 - 08:12:10
694
Lee Vining
08:03:04
-73.4
Dark
Up
74.3
124.9
Up
07:53:54 - 08:12:13
647
Tonopah
08:02:56
-72.8
Dark
Up
75.4
129.7
Up
07:53:47 - 08:12:06
612
Bishop
08:03:01
-73.8
Dark
Up
75.1
124.7
Up
07:53:52 - 08:12:11
567
Lone Pine
08:03:01
-74.4
Dark
Up
75.7
123.1
Up
07:53:52 - 08:12:11
480
Beatty
08:02:56
-73.8
Dark
Up
76.4
127.2
Up
07:53:47 - 08:12:06
479
Indian Springs
08:02:53
-73.7
Dark
Up
77.3
129.0
Up
07:53:43 - 08:12:02
420
Henderson
08:02:50
-73.9
Dark
Up
78.0
129.1
Up
07:53:41 - 08:12:00
348
Searchlight/Boulder City
08:02:51
-74.4
Dark
Up
78.4
127.1
Up
07:53:41 - 08:12:00
285
San Luis Obispo
08:03:15
-76.2
Dark
Up
74.5
113.6
Up
07:54:05 - 08:12:24
410
Kingman/Dolan Springs
08:02:48
-74.2
Dark
Up
79.1
128.7
Up
07:53:38 - 08:11:57
237
Laughlin/Bullhead City
08:02:50
-74.5
Dark
Up
78.8
127.0
Up
07:53:41 - 08:12:00
246
DCO
08:02:44
-73.9
Dark
Up
79.7
131.3
Up
07:53:34 - 08:11:53
208
Mohave Valley
08:02:50
-74.7
Dark
Up
79.0
125.9
Up
07:53:41 - 08:12:00
217
Lake Havasu City
08:02:50
-74.9
Dark
Up
79.4
124.9
Up
07:53:40 - 08:11:59
169
Parker
08:02:50
-75.2
Dark
Up
79.6
123.5
Up
07:53:41 - 08:12:00
130
Idyllwild
08:03:01
-76.6
Dark
Up
78.1
115.4
Up
07:53:51 - 08:12:10
145
Blythe
08:02:52
-75.8
Dark
Up
79.7
120.2
Up
07:53:43 - 08:12:02
83
Calipatria
08:02:57
-76.6
Dark
Up
79.2
115.4
Up
07:53:47 - 08:12:06
51
Yuma
08:02:54
-76.5
Dark
Up
80.1
115.5
Up
07:53:44 - 08:12:03
-16
Azimuth is measured in degrees eastward from north. North is at an azimuth of 0, due East is at an azimuth of 90 degrees, due South is 180, and due West is 270.

Event circumstances last updated at 2015/11/21 21:54:49 UT

Marc W. Buie, Southwest Research Institute