SWUIS Hale-Bopp STS-85 Mission Highlights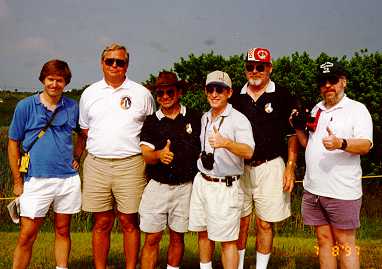 SWUIS Team at Launch
Note: This page has been split in two as more information was added. If you are looking for the Quick-Look Images from the Shuttle Expermient, click here. Also, check out the other photos and news stories.
Latest SWUIS News
Summary.
SWUIS obtained more than 400,000 useful frames in the ultra-violet and visible from the Shuttle Discovery during 9 orbits on 5 days, August 14-19, 1997. Preliminary reductions from downlinked SWUIS video reveal that good signal was received on the comet during each run on orbit. Simultaneously, an infra-red version of SWUIS observed from the high-altitude WB-57 on two pre-dawn flights, August 14 and 18.
19 Aug 1997.
Discovery landed at 7:08 EDT this morning after completing all the planned SWUIS observations, along with a plethora of other scientific objectives.
Congratulations crew and welcome home!
18 Aug 1997.
Infra-red observations were obtained from the WB-57 this morning with increased magnification.
14 Aug 1997.
We now have observations from 7 orbits, totalling almost 250,000 good image frames; two additional Hale-Bopp orbits are scheduled for August 15.
14 Aug 1997.
This morning SWUIS collected 3 orbits of pre-sunrise data on Hale-Bopp which continue to look good. Two more pre-sunrise observations are planned this morning.

Simultaneously, PI Alan Stern flew with an infra-red, wide-field version of SWUIS at 51,000 ft in NASA's WB-57 and obtained 45 minutes of data to characterize SWUIS IR performance at altitude.
13 Aug 1997.
This morning's SWUIS observations from the WB-57 high-altitude airplane have been rescheduled for tomorrow's pre-dawn. We have more observations planned for 4AM CDT 14 Aug from STS-85 continuing through simultaneous infra-red observations from the WB-57.
12 Aug 1997.
Another 2 orbits of successful SWUIS observations have been obtained from the Shuttle.
9 Aug 1997.
SWUIS successfully conducted its first-ever observations from Shuttle, obtaining both planned orbits of data on comet Hale-Bopp.
---
Other Photos and News Stories
---
Web page comments can be addressed to Peter Tamblyn at ptamblyn@boulder.swri.edu Last Updated: 07 May 1998