Meet my newest daughter...
Laura May Bottke
---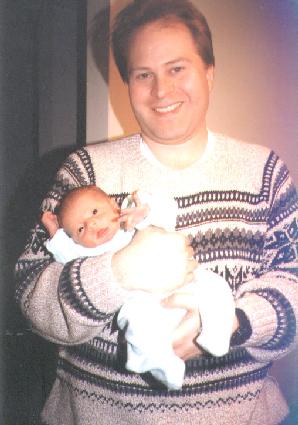 Here's an image of my beautiful new daughter, Laura May Bottke, born Jan. 21, 1998 at 8:00 AM. Laura weighed 7 lbs, 1 oz at birth, and was roughly 20 inches long.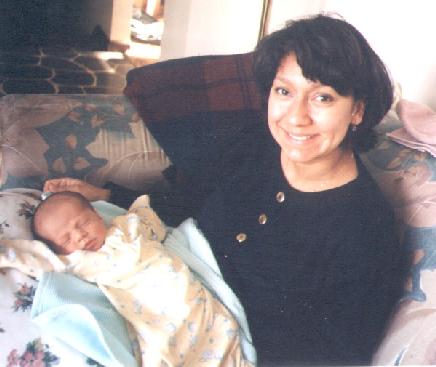 My lovely wife Veronica shows off Laura shortly after her dinner time.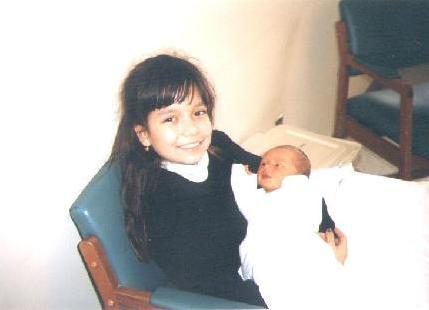 I happen to have another wonderful daughter, Kristina Marie, 9 years old, who couldn't be more thrilled to have a little sister!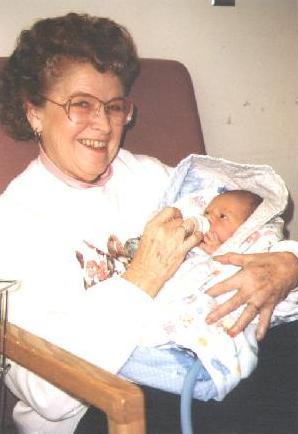 Here's a picture of one of the proud grandmas (my mom) who came out to give us hand after Laura was born.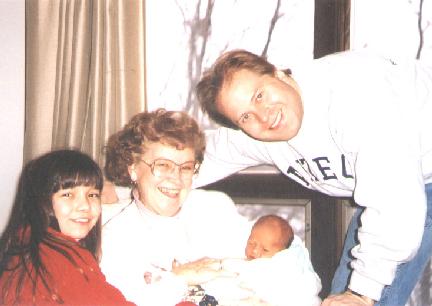 A shot of us at the hospital admiring the product of nine months of hard work by Veronica.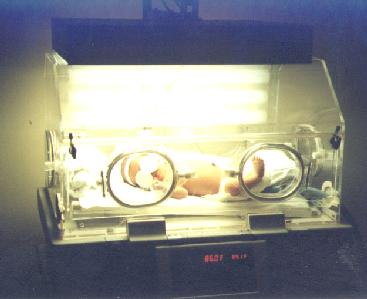 Finally, here's a shot of Laura in the hosptial incubator after she she came down with jaundice. Note the little sun-glasses (which never stayed on!) and the bank of UV lights used to get rid of the high bilirubin levels. She had to stay in this thing for three days while Veronica, Mom, and I anxiously looked on.

---
Little House on Cayuga Lake, or Our Adventures in Bringing Laura into the World

Veronica's expected due date was Jan. 21, so the baby arrived right on time. It turned out, though, that the story was slightly more complicated than that. As of Jan. 20, the baby had still not dropped in position, such that the doctor suggested that the birth date would probably be 1-2 weeks later than the expected date. We were disappointed, but with everything else going well, we weren't overly concerned.

When I got home from work that night, Veronica mentioned that she had been undergoing baby-related pains since about 6 PM. We kept an eye on things, but since Veronica had just seen the doctor that morning, we assumed she was undergoing false labor (or something related). Out opinion changed as the night went on, though, with Veronica's pain growing more and more severe. Finally, at 12:30 AM on Jan. 21, Veronica's water broke. The next few minutes were pretty exciting, with Kristina loudly wondering "Is it time to go?" while I was frantically gathering together all the suitcases. Nevertheless, we all got to the car safely and sped off to Cayuga Medical Center, Ithaca's hospital, which is conveniently located about 5 minutes from our house.

Some friends came by to pick up Kristina, which, more or less, left Veronica and I alone in the birthing room for several hours. Things were progressing nicely with the huff-puff breathing until 3 AM, when Veronica started to undergo wave after wave of incredible pain. It turned out that the baby was posterior while trying to drop, making Veronica's every movement increasingly tortured. In addition, Veronica has only dilated about 2 cm, far too little to do much but sit and wait. I don't believe I have ever felt more helpless in my entire life.

The next three hours were pretty awful for the two of us. Fortunately, after trying several different birthing positions, the baby dropped, rotated into position, and Veronica dilated to all the way to 7 cm, relieving the pain and allowing Veronica to get set up for the the final push by 6 AM. It took about two hours, but, by 8 AM, we had a brand new daughter, who, I must admit, is the most beautiful baby I have ever seen.

After lots of rejoicing and some resting, we were able to take the baby home on Jan. 23. Trying to return to normal after adding a member to the family is difficult, but we did pretty well the first few days. On the 25th, however, we noticed that Laura's face and body were becoming quite yellow. Just to make sure, we drove her down to the hospital to get her blood checked for jaundice. Sure enough, her bilirubin levels were *very high*, such that they had to readmit her right away. The nurses put Laura into an incubator with lots of UV lights, making sure to cover her eyes with little cloth sunglasses. It is pretty eerie to see your child in a contraption like that - it looked like something out of a B-grade SF movie.

Over the next few days, Veronica, my Mom, and myself took shifts watching over Laura to make sure the her recovery went smoothly. Laura's bilirubin levels eventually dropped down to the point that were able to bring her home on Jan. 28. Everyone is doing well, though we could all use some more sleep.

Best regards from a very happy dad!

Bill Bottke, 28 Jan 1998

Back to the main page